Riding in Cars with Boys.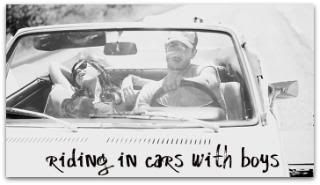 Prologue.
I never really liked cars.
Which was weird, because my dad owned a lot of them. So I have been around them my whole life and yet, I still despised being the driver or passenger in any moving vehicle. They just had this weird smell, especially when they are new, or old. Basically at anytime they just smelled wrong to me.
I still rode in cars, I am not psychotically scared of them. I even own a car; but if I had the choice, a car would not be my number one pick. It wouldn't even crack the top five.
Apart from my car issues, I had a fairly normal life. There were family problems, sibling envy and boy trouble.
Every girl has a life like that right?
I never thought that leaving for a few months would change things the way that it did. Europe is said to change your life in a better more educational way, at least that's what the brochure ensured.
Starting my senior year, with a culture experience like the ones I found abroad was supposed to make me more mature, worldly and confident. Dad thought the trip might even conquer my car issues, riding around in the little cabs and such. It didn't, I was still the same person.
But I never thought I would spend so much time, riding in cars with boys.
<3
Hey Guys! It's me, again.
This is my new story (obviously) and I have been working on it for a while now. I have a reasonable amount written, but I will only be updating once-twice a week. Life is so hectic right now.
I hope you like it! Comment would be love
Chapter 1 coming TUESDAY (My time)
Georgie